TL;DR: To help managers skill up quickly, LifeLabs and GIPHY offered short, practical training, tailored to GIPHY's unique culture.
THE CHALLENGE:
Formal training in an informal environment
At approximately 130 employees and 40 managers, the GIPHY Ops Team recognized it was time to equip managers with tools to lead well – particularly due to GIPHY's rapid growth and the number of employees in newer, management roles. Managers needed support leading in a fast-paced environment, developing their teams, and having difficult conversations, particularly when managing friends. The challenge was to find a formal program that would match GIPHY's informal culture.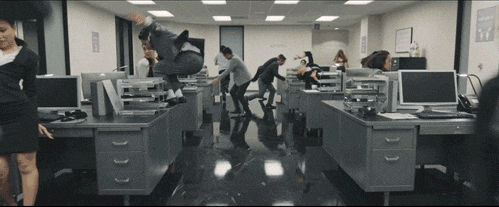 THE SOLUTION:
Manager CORE, tailored to Giphy's culture
Since 2017, we've joined forces to offer a robust, standardized manager training program.
Leaders at all levels (including executives) complete the Manager CORE 1 Program, with a focus on coaching, feedback, productivity, and effective 1-1 skills. 
As the complexity and scope of their roles grow, GIPHY leaders move onto the Manager CORE 2 Program, focused on strategic thinking, meetings mastery, leading change, and people development.
While the training content is standardized, our facilitators tailor their style to match GIPHY's unique vibe. They incorporate GIPHY's values, priorities, and culture to keep the training feeling fresh, playful, and relevant. 
Aside from investing in training, GIPHY has also created roles that support employee development. Every employee has a manager and a mentor — someone inside the company they normally wouldn't get the opportunity to work with day-to-day. GIPHY sponsors the relationship by providing a stipend for the mentor and employee to go out together and focus on the employee's career development and overall workplace experience.
THE RESULTS:
Nearly perfect scores!
The LifeLabs workshops have earned nearly perfect scores, with 99% of managers agreeing that the training was useful and engaging and 100% rating their facilitator as knowledgeable. 
The training program has helped managers feel more supported and has increased their ability to do great work. It's so easy to get bogged down in the details of daily tasks, but since participating in LifeLabs training, GIPHY managers have expressed an increased capacity to provide and receive feedback, listen to their direct reports, and manage more effectively.
LESSONS LEARNED:
The power of fit
Despite the managers' initial hesitation to participate in a formal curriculum, the response to the program continues to be overwhelmingly positive. The success is a testament to the GIPHY Ops' understanding of their culture and their managers' needs. This insider knowledge allowed us to align the content of the training with participants' most pressing issues and align the style of the training with GIPHY's fast, informal, playful culture.